In line with its ongoing efforts to preserve local arts, culture and heritage, Khazanah Nasional introduces Galeri Khazanah and shares a diverse collection of artworks with a global audience.
KHAZANAH Nasional is the sovereign wealth fund of Malaysia, a strategic investor that seeks to deliver sustainable economic and societal values for the nation, by growing long-term financial returns and balancing that with services and opportunities from which future generations of Malaysians can reap benefits.
As part of these services and its long-term "Advancing Malaysia" strategy, Khazanah plays a significant role in capacity building, placemaking and spurring vibrant communities from various sectors in Malaysia, including arts, culture and heritage, all of which contribute to defining our national identity.
In line with this, Khazanah presents its first-ever virtual art gallery, Galeri Khazanah, through which it shares works by Malaysian artists which have been acquired since Khazanah's inception in 1994. Its inaugural art exhibition, Time Together: Exploring Art Through Khazanah Nasional Berhad's Collection, features over 50 artworks by senior, established and young Malaysian artists including Latiff Mohidin, M. Zain Idris, Ahmad Khalid Yusof, Dato' Chuah Thean Teng and Kok Yew Puah, and serves as a fragment of the nation's institutional memory.
"Over the years, Khazanah has collected meaningful cultural pieces such as drawings, paintings, photographs, sculptures, crafts, as well as historical objects which serve as fragments of the nation's collective memory – to preserve and conserve all of these irreplaceable artefacts for future generations," says Dato' Amirul Feisal Wan Zahir, Managing Director of Khazanah Nasional.
Another one of its initiatives is the Khazanah Residency Programme (KRP), to develop young Malaysian talents in selected disciplines by equipping them with the latest knowledge, skills and networks in their respective fields. There are four programmes run under this initiative namely the Khazanah Media Fellowship, Khazanah Nasional Associate Artist Residency, Khazanah Design Residency and Khazanah Public Service Residency. Up till January 2022, a total of 42 emerging Malaysian talents have benefited from attending these various residency programmes.
Artists abroad
Visual artist Ajim Juxta says the Khazanah Nasional Associate Artist Residency (KAAR) was one of the best experiences he has had.
The Khazanah Nasional Associate Artist Residency (KAAR) Programme which began in 2017 has been a wonderful way for local artists to broaden their horizons.
Delivered in partnership with Acme Studios, London, the KAAR programme aims to expose Malaysian emerging artists to the international art scene by providing up to two artists every year with studio accommodation and a three-month programme of artist support and professional development. To date, eight artists have participated: Ajim Juxta, Azam Aris, Haffendi Anuar, Winnie Cheng, Tomi Heri, Zulkifli Lee, Yeoh Choo Kuan and Izat Arif.
One of the first few artists to take part in KAAR in September 2017 was Ajim Juxta, a 39-year-old visual artist (formally trained in architecture) who has been making his presence felt in the local art scene for a while now.
"It was one of the best experiences I have had as an artist," reveals Ajim enthusiastically. "I was exposed to many things, and it was a pivotal point in my career to develop new works, and connect with others through shows and sharing sessions."
The KL-born multi-talented creative (he paints, draws, composes music, writes poetry and lyrics) was exposed to art from young age as both his late parents were art graduates themselves. "My siblings and I were always given lots of opportunities and activities that centred on art. I went for art exhibtions and to museums at a very early age. And I have been drawing since I was about 4 years old."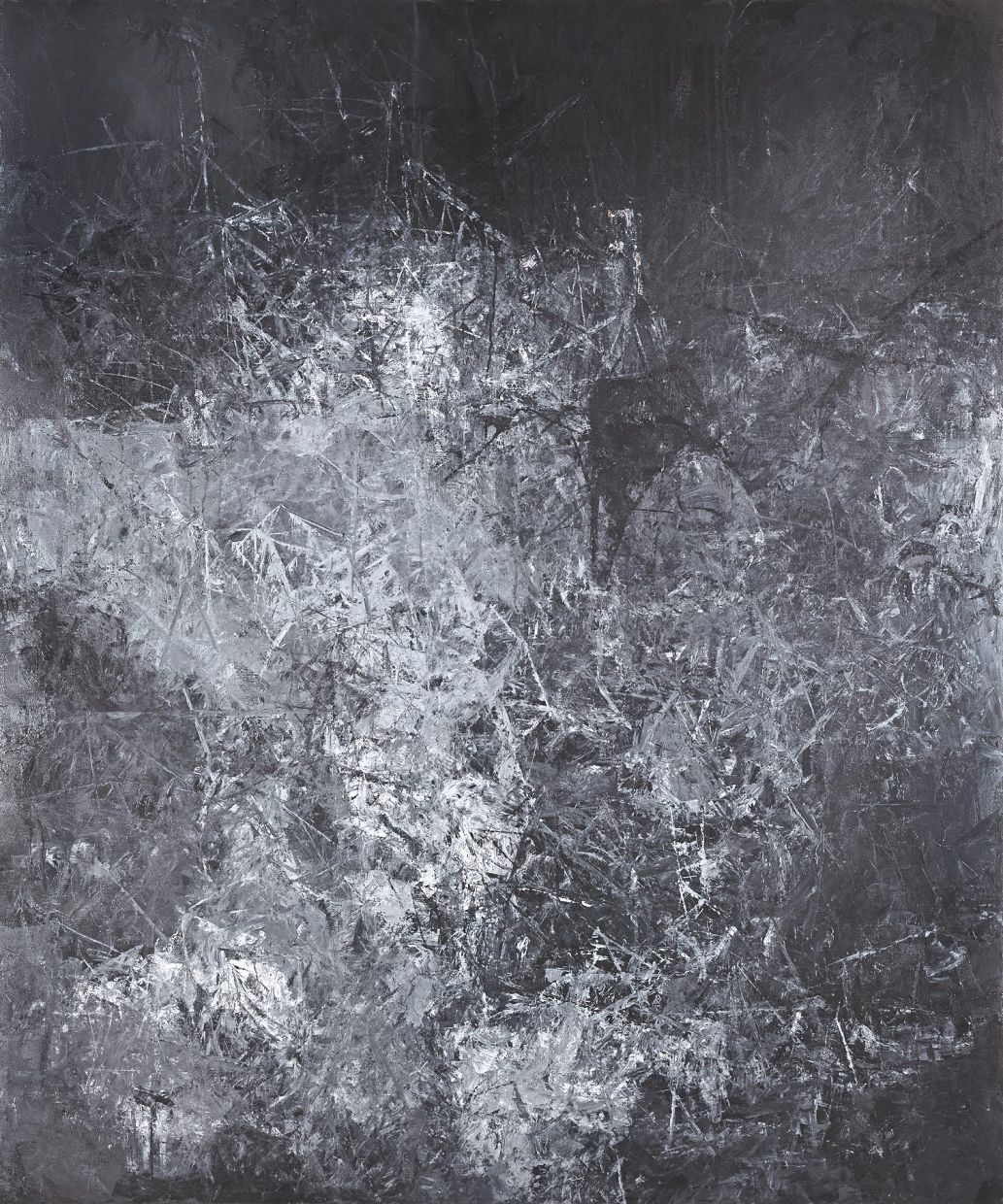 Ajim's Monomania: Ugut (2018, acrylic on canvas) is currently on display at Galeri Khazanah's exhibition Time Together: Exploring Art Through Khazanah's Collection.
One of Ajim's works, Monomania: Ugut, an acrylic on canvas piece from 2018, is currently on display at Galeri Khazanah.
"Ugut translates to 'threat' in English … and to me, it is representative of one of those moments when the feeling of anxiety kicks in, like what was happening while I was working on the show. And also on account of society and the current state in which we live in. It is one of those works that portrays helplessness and dystopia … or a bleak future."
The title of the exhibition, Tugu | Ugut, made use of anagrams to question and relate to the world around us. He explains further: "When monuments are not what we can look up to anymore."
Monomania: Ugut was a part of a series of works that he had worked on post KAAR, from the Tugu | Ugut exhibition in 2018 held at the Pertubuhan Arkitek Malaysia (PAM) Building in KL, for which he worked with multiple collaborators including the Titikmerah Collective, artists Syahbandi Samat and The Silz, printmaking collective NomoonNofrens, No-to-Scale Studio founder Shamin Sahrum, poet Ali Noor, writer and ethnographer Xeem Noor and Artemis Gallery.
At the time, Ajim was quoted in the The Star saying: "As an artist, I gain inspiration and knowledge from other artists around me. By inviting artistic collaborations, we then introduce a vital aspect to creating differential conversations and bodies of work."
Ajim says one of the things that he learnt through the Khazanah Residency was the realisation of the potential that we have to move forward together as artists and creatives.
"We are not really lacking the resources here in Malaysia, but in how we are making use of what is already available to us," he says. "I do feel that there aren't enough platforms and support on many levels, including in education for example, especially for someone not from fine arts to get into the field. But things are starting to get better."
After graduation, the UiTM grad worked as an architect for about three years, before deciding that his true calling lay in the visual arts.
"I switched from architecture to art when I realised I wouldn't be able to fully express my art and creativity working for an architectural firm. Also the realisation about the ownership of my work was another thing that led me to this path. Many people around me opposed my decision but I had a few supporters, too, so I thought it was worth the try," he explains adding cheerfully that "it's now been 13 years!"
Yeoh's Mind The Step (2017, oil and lacquer on linen) is a reminder not to get too comfortable with your surroundings.
Feeding creativity
Yeoh Choo Kuan was part of the 2022 cohort for KAAR. The 34-year-old, who lives and works in Kuala Lumpur, spent three months in London earlier this year and had a fabulous time.
"It was the best art residency I have experienced so far. Both my body and mind were very well fed!" Yeoh says. "I appreciate the Khazanah fund and the efforts made to organise the meetings for connection and conversation with art workers from London. It was so stimulating … my brain felt like a disco ball spinning all the while!"
Like Ajim, Yeoh also feels that in Malaysian artists don't have enough institutional support, as compared with artists from other major cities. "It's so important for us to learn to look out for great opportunities like this, and start working on our proposals and submissions," he shares.
Yeoh's practice revolves around the abstract, and the tension between the spiritual and physical. "Fundamentally," he explains "I toy with all sort of emotions and reinvent them into unique experiences. As an audience I like to see all kinds of mediums and styles, and for me, 'art' works because of some sort of magical coincidence. Abstract has the most exciting results when it reaches that 'magical coincidence' threshold," he explains.
Yeoh's solo exhibitions thus far have included Today's Special (2020), Lights In (2018), Live Leak (2017) and Private Sentiment (2012).
One of his favourite works, he says, was in 2019 when he collaborated with the team at Richard Koh Fine Art for an installation during Art Week Singapore. "It was called Streaming Mountain, and was a 20m long landscape scroll displayed in various heights on a customised scaffolding structure that mimicked the layers and rhythms of mountain ridges."
Yeoh dates his love for art back to Standard One. "There was a waiting list amongst my classmates to get my crayon-coloured Power Ranger masks … I knew then that art was something I enjoyed and others would appreciate!"
Abstract artist Yeoh Choo Kuan had a stimulating time connecting and conversing with art workers from London.
What are some of the challenges of being an artist in Malaysia? Yeoh says: "There are only good challenges in creating art, but having said that, I must admit that it's been really tough to promote our art out there. The Ringgit has been depreciating in value and costs are high, so it is tough to get good quality materials from overseas or to participate in international exhibitions."
Yeoh is stoked, however, that one of his pieces will be part of Galeri Khazanah's Time Together exhibition.
"Mind Your Step is a painting that looks serene at first glance from distance … but has intense slash marks if one observes more closely," he shares about the oil and lacquer on linen piece done in 2017. "It's a reminder for myself not to get too comfortable as I have just moved to a new studio, perhaps an overly comfortable one with peaceful surroundings.
"I think this also applies to the Malaysian art scene, where we are kind of self-sufficient and have supportive patrons, but we need to be careful not to get stuck within our own loop. It's so important to get attention from the outside, to have a collective momentum and a competitive spirit."
Yeoh is confident that the KAAR programme and Galeri Khazanah are positive efforts in this direction. "The virtual gallery is going to be so helpful for artists from different generations to get international exposure. And the residency really helps us connect with curators and arts workers overseas. If we play our cards right, we can help uplift the whole art scene here."
Galeri Khazanah's exhibition Time Together: Exploring Art Through Khazanah's Collection is now open to the public and can be viewed physically at Slate@The Row, Jalan Doraisamy, Chow Kit, Kuala Lumpur, until Sept 4 (10am to 6pm daily). Admission is free. One can also opt for the virtual tour, by visiting https://galeri.khazanah.com.my/, and discover 57 modern and contemporary works produced by 29 Malaysian artists in five thematic virtual reality spaces, including the Lobby, Traditional House, Peranakan, Pavilion and Glass Room.